Jump to navigation
take a break
Almost ready
I have another Sam Spendalot update almost ready to post but I still need to add some stuff to it. As I said before things have been busy and I have been having some network problems at home so it has been hard to find the time to post. So stay tuned in the next day or two I should have a real new post ready.
---
Where does the time go in the summer?
I'm currently working on a couple of posts to put up here related to personal finance stuff but they aren't quite polished yet.

Today we ended up having a bit of an adventure. After visiting Peterborough in the morning we were driving back home and stopped for lunch in Port Perry. After having lunch we got back into the car but the car wouldn't start. The message center (a little text display on the dashboard) would sometimes flash the message "Check Immobilizer Manual". So a call to Volvo Car Care and a couple of tow truck visits later we got towed back to the Volvo dealership in town. I get to sort this out tomorrow morning and for now we are carless. What a pain.

Anyway, things have been busy and I think it should start to slow down a little bit but I seem to have a lot on the go right now. So look for a new 'real' post in the next few days....
---
Little Guy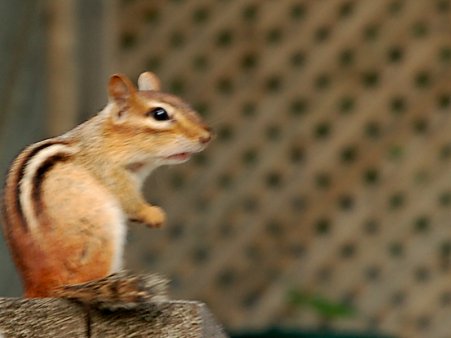 This little guy was upset about something on our neighbour's deck. He let me get close enough to get this shot but he wasn't too happy about it. This was taken with my D50, 18-70mm lens at 70mm focal length and F/5.6 aperture 1/60 shutter speed. This is the first picture I have posted that I have taken with the D50 I got for Christmas.
---
Happy Canada Day!!!
So far our Canada Day as been a pretty good (and traditional) Canada Day. We started the day off watching the Prologue of the Tour de France (Thor Hushovd won, George Hincape came in about 0.75 seconds behind Hushovd). After lunch we went for a nice 38k bike ride. After getting cleaned up after the bike ride we walked down to the park which is less than a 10 minute walk. The park has most of the town's Canada Day activities happening in it, the rest are on Main St. which is only about a 2 minute walk from the edge of the park. The park had the beer tent set up, a band was playing (which we can hear clearly from our house), there were pony rides for the kids, a few community groups have barbeques set up selling hot dogs and hamburgers to raise money. We walked down to Main St. and I picked up the slab of fudge that I buy every year. The weather has been almost perfect, about 28C or 29C and only a few clouds in the sky. The coulds are rolling in now and it looks like we are going to get a fireworks show from Mother Nature, not from gunpowder.

I just wanted to wish everyone out there a Happy Canada day! Canada is 139 years old today. We are half way through 2006 already!
---