Jump to navigation
take a break
I Made a Mistake...
Last month I made a mistake. Or I thought I did at the time.

I have owned Pfizer in my RSP account since March, 2005. I originally bought it at $26.50 a share. Then in September as the price fell under $26 I picked up some more at $25.70. Sometime in January the stock peaked out at around $26.50 and had been on a steady slide until around the end of June. I watched it as it marched lower and lower and finally when it sunk under $23 and the Canadian dollar climbed above $0.90 US I couldn't take it anymore. I place a buy order in my TDWaterhouse account for $22.80 and waited to see if my order would get filled. I had some extra cash in my self-directed RSP account and at under $23 Pfizer sported a dividend yield of just over 4% (dividends are currently 24 cents a quarter, 96 cents a year at $23 that is 4.17%). Of course the reason to hold a US dividend paying stock in an RSP account is simple; dividends from non-Canadian companies are taxed as straight income for Canadian taxpayers at their highest marginal rate. So an RSP provides the perfect place to get that income because the taxes are deferred until you take the money out of the account.

So what was the mistake? Well when I was placing the order I was in a bit of a rush and I didn't look at the account I was placing the order in too carefully. I placed the order in my non-RSP account, not my RSP account. Add to this the fact that I didn't actually have any cash in my non-RSP account so I ended up buying the Pfizer stock on margin. Now I was paying more than 6% interest on an investment in a US stock that was giving me a 4% dividend that was taxed as straight income. I didn't expect to get too much of an increase in the stock price in the short term so I didn't really see any advantage on that side of the investment.

This has actually turned out quite well (to my surprise). Pfizer closed yesterday at $26.11 and the Canadian dollar is down slightly to something like $0.884 US. If we ignore the exchange rate effects Pfizer has increased in value 14.5% since I bought it about 5 weeks ago. Now I have the opportunity to do a switch with Pfizer and a Canadian stock I have in my RSP so I can move Pfizer in and take something like Royal Bank out of my RSP. If I do this before Pfizer pays a dividend my 'mistake' will have been effectively erased. Sometimes things can work out much better than expected.
---
Almost ready
I have another Sam Spendalot update almost ready to post but I still need to add some stuff to it. As I said before things have been busy and I have been having some network problems at home so it has been hard to find the time to post. So stay tuned in the next day or two I should have a real new post ready.
---
Investment Cash Flow
One of the things that I have been advocating on this site is the use of investments and investment income to achieve financial independence. In order to reach the ideal state of financial independence there are three areas that need to be monitored. I have talked about the first area that really provides the foundation for the other two areas here already, that is tracking your cash flow. The second area that needs attention is debt. A focus on reducing debt is an important step in the road to financial independence as the more you have to pay to service your debt the higher your overall cash flow needs to be before you reach financial independence which means a longer road to financial independence. The third area that needs to be monitored is the area of investment income. Once you have an understanding of the cash flow required to support your lifestyle the next logical step is to look for sources for that cash flow.

Today I want to talk about monitoring investment income. The tricky part of this area is that you need to find a way to make sure that the growth in your investment income matches or exceeds the growth in your lifestyle expenses. Once you get to the point where your investment income is exceeding your lifestyle cash flow requirements AND the growth in your investment income is exceeding the growth in your lifestyle expenses you have achieved financial independence. The problem with this is that you need to be sure your investment income growth is 'organically' exceeding your expenses growth. By 'organically' I mean the growth in income that your investments are generating without the addition of extra cash (or even the re-investment of income).

The whole point of generating income from investments is to eventually live off that income or a portion of that income. Since you are living off the income you won't be adding any additional funds into the portfolio and you will be skimming the income off the portfolio so that income won't be re-invested either. So in order to make sure your investments will be able to support your lifestyle over the long term you need to know that the organic growth in investment income exceeds the growth in your lifestyle expenses. Tracking the growth in lifestyle expenses is relatively easy. You just need to consistently track your expenses over a medium to long period of time (at least 3 years, preferably more than 5 or 7 years) and see how they change over that period of time. But how can you track organic investment income growth?

Just bear with me here while I discuss with myself what makes sense to measure. In order to track organic investment income growth I think there are two things that require attention. Obviously income per share needs to be tracked but also share splits need to be tracked or adjusted for. Does that make sense? Actually not really because you will have a mix of investments in your portfolio each having different income growth rates. All that needs to be tracked is income per 'unit'. What do I mean by income per unit? Well, one way to track portfolio gains without including timing information associated with cash inflows is to treat your portfolio like a mutual fund. When you contribute cash to your portfolio you buy 'units' in your portfolio based on the overall value and number of units in the portfolio.

I think this will work to give an accurate picture of the growth in cash flow per unit of your portfolio. Once you stop making cash contributions to your portfolio you won't be buying anymore units of your 'fund' so the historical growth in income per unit should give you a pretty good estimate of the growth rate of the income of your portfolio.

What should be considered a cash inflow? Anything that buys more shares. So interest on margin (just a fancy way of saying money borrowed to invest) balances shouldn't be considered a cash outflow, and income that isn't re-invested shouldn't be considered a cash inflow. Also, cash used to pay down margin balances shouldn't be considered a cash inflow. However, margin used to buy income producing shares should be considered a cash inflow. The reason for all of this is that we only want to track change in cash flow per unit. What happens with investments in non-income producing securities? Is that cash flow included or not? If it isn't included then that assumes that the portion of the portfolio invested in those securities won't be invested in income producing securities ever. If it is included then it assumes that that portion of the portfolio will always be invested in non-income producing securities. Which is basically saying the same thing two ways (six of one, half a dozen of the other). I will be including it in my calculations so that I get a good idea of the growth in cash flow of our overall portfolio.

So using this method I went back and calculated our investment cash flow per unit for 2005 which was around 38 cents (our 'units' are in the $15 range which works out to about a 2.5% yield). So far in 2006 our cash flow in 2006 is around 36 cents and we are just over half way through the year. I still need to go back and calculate the growth rate of our expenses but I have a feeling that our investment cash flow growth is more than keeping up with the growth in our expenses.
---
Where does the time go in the summer?
I'm currently working on a couple of posts to put up here related to personal finance stuff but they aren't quite polished yet.

Today we ended up having a bit of an adventure. After visiting Peterborough in the morning we were driving back home and stopped for lunch in Port Perry. After having lunch we got back into the car but the car wouldn't start. The message center (a little text display on the dashboard) would sometimes flash the message "Check Immobilizer Manual". So a call to Volvo Car Care and a couple of tow truck visits later we got towed back to the Volvo dealership in town. I get to sort this out tomorrow morning and for now we are carless. What a pain.

Anyway, things have been busy and I think it should start to slow down a little bit but I seem to have a lot on the go right now. So look for a new 'real' post in the next few days....
---
Little Guy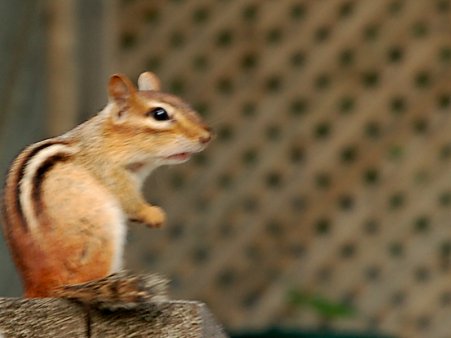 This little guy was upset about something on our neighbour's deck. He let me get close enough to get this shot but he wasn't too happy about it. This was taken with my D50, 18-70mm lens at 70mm focal length and F/5.6 aperture 1/60 shutter speed. This is the first picture I have posted that I have taken with the D50 I got for Christmas.
---
Happy Canada Day!!!
So far our Canada Day as been a pretty good (and traditional) Canada Day. We started the day off watching the Prologue of the Tour de France (Thor Hushovd won, George Hincape came in about 0.75 seconds behind Hushovd). After lunch we went for a nice 38k bike ride. After getting cleaned up after the bike ride we walked down to the park which is less than a 10 minute walk. The park has most of the town's Canada Day activities happening in it, the rest are on Main St. which is only about a 2 minute walk from the edge of the park. The park had the beer tent set up, a band was playing (which we can hear clearly from our house), there were pony rides for the kids, a few community groups have barbeques set up selling hot dogs and hamburgers to raise money. We walked down to Main St. and I picked up the slab of fudge that I buy every year. The weather has been almost perfect, about 28C or 29C and only a few clouds in the sky. The coulds are rolling in now and it looks like we are going to get a fireworks show from Mother Nature, not from gunpowder.

I just wanted to wish everyone out there a Happy Canada day! Canada is 139 years old today. We are half way through 2006 already!
---